Zwart op wit geperforeerde PVC-raamfolie
De geperforeerde PVC-glasfolie is aan de voorzijde zwart en aan de kleefzijde wit. Plak de film eenvoudig aan de binnenkant van glazen ramen of scheidingswanden om een ​​one-way vision privacy-effect te creëren. (we hebben een wit op zwart product om hetzelfde effect te creëren als u op de buitenkant van uw glas moet aanbrengen).
De witte kant reflecteert natuurlijk licht van buitenaf dat overdag het licht (en het zicht) van binnenuit domineert. Blinds of gordijnen zijn normaal gesproken 's nachts nodig om de privacy te behouden als de binnenkant verlicht is.
De zwarte geperforeerde zijvlakken naar binnen zorgen voor een uitstekend doorzicht. De perforaties beslaan 30% van het oppervlak, waardoor natuurlijk licht de kamers binnenkomt. In tegenstelling tot conventionele vensterverven , reflecterende of matte glasfolies , blokkeren Vasion® Privacy Window Films het zicht 's nachts buiten niet (deze andere films worden' s nachts spiegels als ze van binnenuit kijken). Vasin® Privacy Window Film vermijdt ook verblinding en ongemakkelijke verblinding door reflecterende / matte films wanneer van de buitenkant bekeken.
Een bijkomend voordeel is een vermindering van de zonnewarmtewinst, verblinding en UV-straling. Dit kan kantoren, openbare gebouwen en huizen helpen om comfortabelere woonomgevingen te zijn met lagere kosten voor airconditioning.
Onze geperforeerde films kunnen heel gemakkelijk op vensters worden aangebracht, omdat luchtbellen er niet onder opraken. Instructies en een applicator tool zijn aanwezig.
Speciale low-tac-lijm om het gemakkelijk om de film achteraf te verwijderen zonder de rommel achter te laten.
Hoogwaardig polymeer PVC met een veel langere levensduur (2-5 jaar) dan goedkopere monomere PVC-raamfolies.
en we verkopen ook andere reclamematerialen , zoals reflecterende vinylfilms, snijden van vinylfilms, zelfklevende vinylfilm enz. en we verkopen ook autowikkelfilms, zandstraalstencil, decocratieve vinylfilm .
Items

Description

Surface Material

Composition

Glossy, White & Black, Calendered monomeric PVC Film

Thickness of film

120-180micron etc

Glossiness

50

Perforation

Diametre:1.6mm,Distance:2.55mm

Perforation Rate

50%

Shrinkage

<1%

Anti-UV Capacity

≈13176 hours(Under normal condition, industry pollution and direct sunlight free)

Adhesive

Character

Completely Removable, Clear, Acrylic Pressure Sensitive Adhesive

Thickness of adhesion

20micron etc

Adhesive Ability

1.1-2.3kg/inch

Initial adhesion

#4 stainless steel ball

Lasting adhesion

≈127 hours

Anti-UV capacity

Good

The Lowest Sticking Temperature

15°C

Usage Range

-20°C-80°C

Liner

Type

Double liner

backing paper weight

120g, 140g, 160g etc

Size

Width

0.914m/1.06m/1.27m/1.37m/1.52m etc

Length

50m etc

Tear Resistance

≈150MPa(Different from film thickness)

Durability

More than 2 years

Shelf Life

1-2 year(Indoor Temperature:22°C,Relative humidity:50-55°C)

Remarks: The above mentioned content are the average data summarized by Precede under the latest test result. The tolerance should be +_5%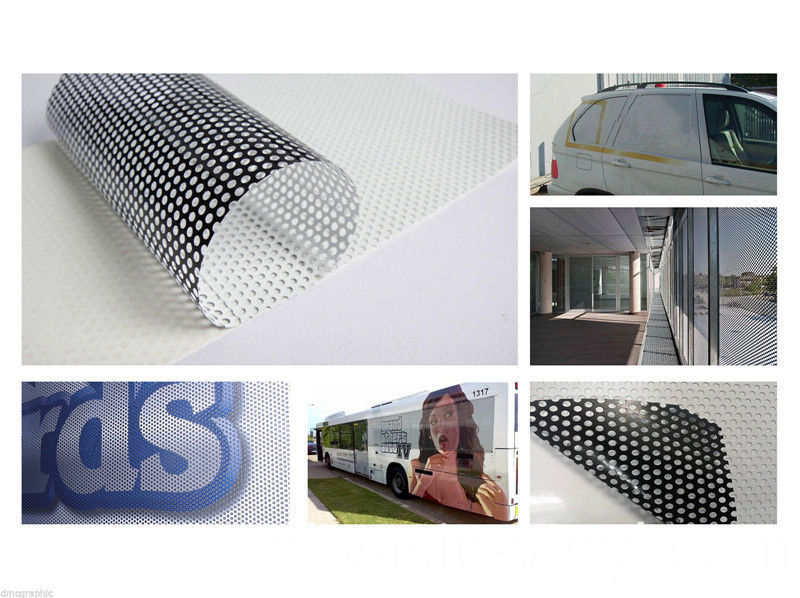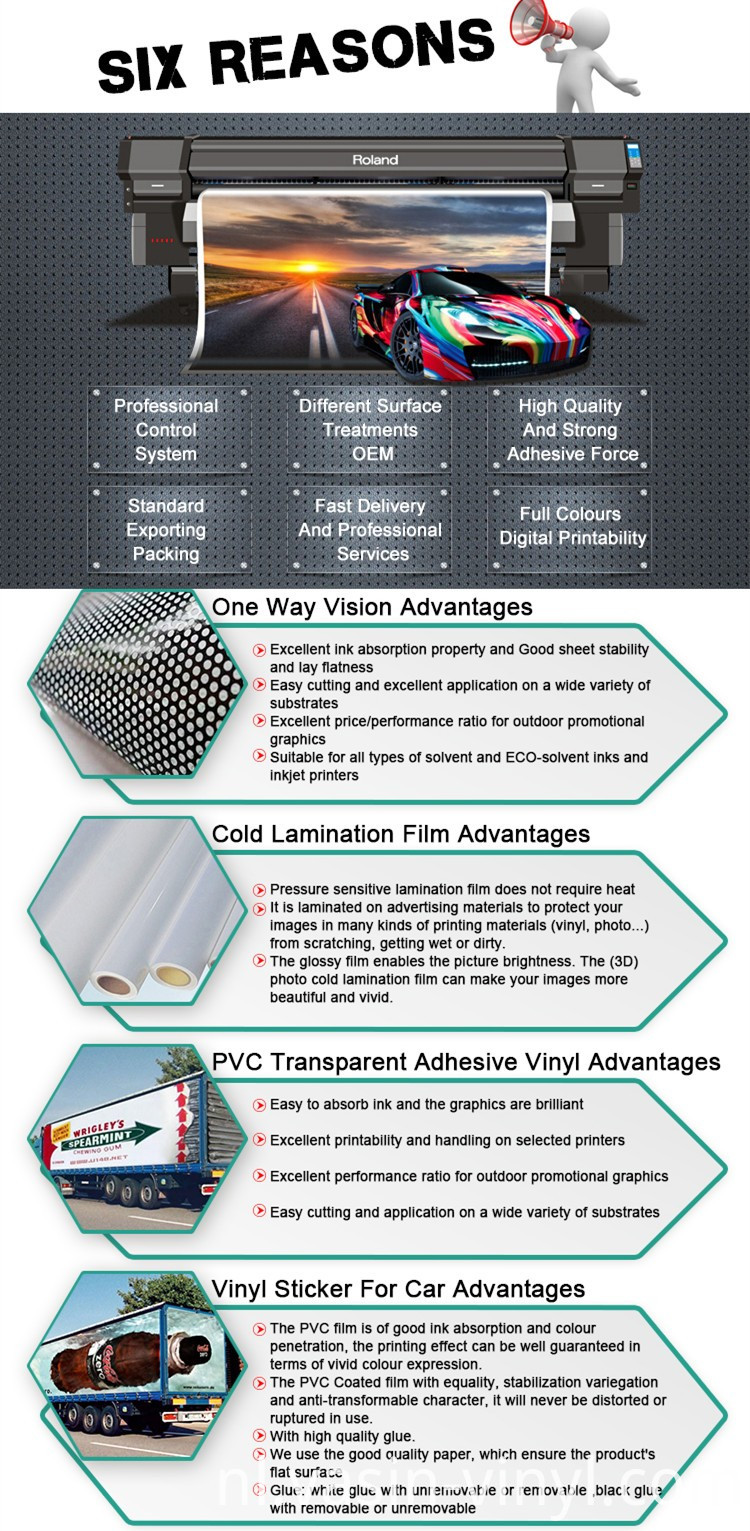 Product Categorie : Adverteren Vinyls > One Way Vision