Tail Light Tint
spotlight tint folie, kameleon kleurverandering. afmetingen: 30 cm x 10m.Extremely elastische,
Koplamp Tint
kan worden verplaatst meerdere times.Self-dragerkleefband foil.Resistant het weer, UV en wasstraat.
Koplampfilmhoezen geven iedereen de mogelijkheid om een ​​van de meest zichtbare delen van een auto bij te werken, te verbeteren en aan te passen voor een prijs die moeilijk te verslaan is. Of u nu kiest om vanaf de grond af te beginnen en door de koplamp tintfilm aan te passen of liever een aangepaste koplamptint-set te gebruiken, u kunt eenvoudigweg niet verkeerd gaan wanneer u bij ons koopt. Een ongelooflijke keuze aan kleuren en tinten is slechts een dag weg met onze onverslaanbare doorlooptijd van een dag op rollen en voorgesneden koplampen. Kies uit hoogglanzende rook of matte rook, blackout, HID blue, JDM-geel, roze, paars, groen of transparante beschermende films in zowel een normale tint als een beschermingsfilm.
Waarom zou je moeten kleuren?
Het aanbrengen van een tint op uw koplampen is zelden een op zichzelf staande aanpassing. De visuele impact van gekleurde koplampen is meer een detail dan een transformatie.
| | |
| --- | --- |
| Item | Most Populal Glitter lemon yellow Car Headlight Wrapping Sticker Foil |
| Name | Headlight And Taillight Tint |
| Performance level | Premium |
| Size | 0.3x10M, 0.3x9M, Customize width 0.3m, 0.4m, 0.6m, 1.2m, Length 9-100M |
| Material | High flexible polymeric PVC film |
| Color effect | Colored, Glitter Colored, 3D Colored |
| Surface Type | Flat, Simple curves |
| Opacity | Translucent |
| Air bubble free | No |
| Film produce technology | Calendered |
| Film thickness (with glue) | 150micron, 6mil |
| Release paper | Transparent |
| Adhesive thickness | 30μm |
| Adhesive color | Transparent |
| Adhesive content | Solvent polyacrylate |
| Adhesive features | Permanent, Removable |
| Adhesive type | Pressure-sensitive |
| Adhesive power | 18N/25mm |
| Temperature resistance | -40°c to +200°c |
| Heat temperature | More than +120°c |
| Tensile strength | Along: min. 19Mpa, Across: min 19Mpa |
| Elongation | Along: min. 130%, Across: min. 150% |
| Durability | Outdoor 3-5 years, Indoor 5-7 years |
| Removability | Removable with heat |
| Application method | Dry |
| Application temperature | +8°C minimum (air and substrate) |
| Application | Car headlight, Car taillight, Glass |
| Application surface | Compound curves, Concave surfaces, Corrugations, Flat, Simple curves |
| Features | Stretchable, Removable, UV proof, Weather proof, Water proof, Resistant to solvents, Easy cleaning, Easy maintenance, Stylish, Can stick any where |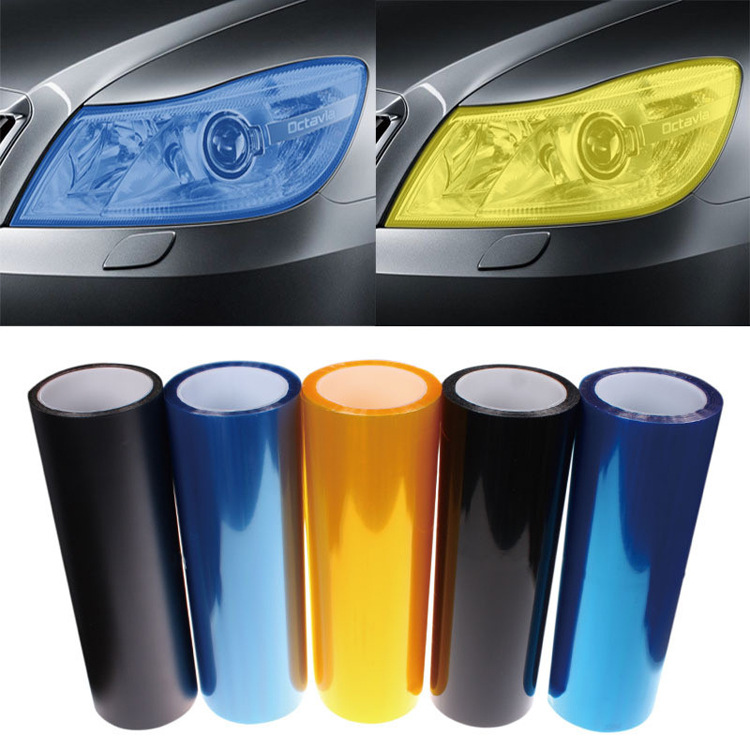 Product Categorie : Car Wrap Film > Koplamp en achterlicht Tint