Omschrijving
Tape Technologies 30 "x 10 yards 2 mil meelachtig vinyl
FLUORESCENSE GEGOTEN VINYLFILM
PRODUCTOMSCHRIJVING
Fluorescerende vinylfilms zijn extreem heldere, hoogglansfilms die zijn ontworpen voor gebruik in de automobiel-, RV-, scheepvaart-, architectuur- en algemene bewegwijzering.
FYSIEKE BESCHRIJVING
FACE FILM: 2 mil gepigmenteerde, hoogglans, premium gegoten vinylfilm.
ADHESIVE: 1 mil high performance, wit, solventgebaseerd acryl, drukgevoelig.
LINER: 78 lb met siliconen gecoate gebleekte kraft.
BUITEN DUURZAAMHEID: Alle fluorescerende pigmenten zullen meestal vervagen wanneer ze worden blootgesteld aan zonlicht. Deze films worden als zodanig alleen aanbevolen voor korte-termijntoepassingen wanneer ze buiten minder dan een jaar buiten worden gebruikt.
APPLICATIETEMPERATUUR: 50ºF.
TYPISCHE KLEEFWAARDEN:
PEEL ZELFKLEVENDE WAARDEN: 30 min. 72 uur
180 Schilwaarden 3,5 # / in. 4,5 # / in.
ELONGATION: 100% minimum.
HOUDBAARHEID: Eén jaar opgeslagen bij een temperatuur onder 70ºF en 50% relatieve vochtigheid.
OPMERKING: stel vóór de daadwerkelijke toepassing altijd uw specifieke substraat voor om de productprestaties op dat substraat te bepalen.
Fluorescent Vinyl aanbieden niet de enige dingen die we kunnen doen. Als je vinyl wilt adverteren zoals One Way Vision , Digital Printing Film , Cold Laminating Film , Applicaiton Tape , Fluorescent Vinyl, PVC Self Adhesive Vinyl wij kunnen dat ook voor u doen. Met een breed scala aan kleuren om uit te kiezen, is de lucht de limiet voor wat we voor u kunnen knippen.
Borduurwerk, Heat Transfer Vinyl Film voor op maat gemaakte t-shirts en overhemden, een dvertising reflecterende folie , Engineering reflecterende platen en Luminous Film worden allemaal aangeboden bij Vasin. Stop alsjeblieft en zie onze brede selectie en vele ideeën die we voor je kunnen bieden.
Data Sheet of Fluorescent Retro-reflective Vinyl Film

Face Film

Material

calendered PVC

Adhesive

Finish

gloss

Thickness

150micron 200mic etc

Type

acrylic pressure sensitive adhesive

Color

red, yellow, blue, green, rose red, orange 6 color

Release Liner

Type
coated paper

Weight

140gsm etc

Ink Compatibility

printable

Size of Rolls (W*L)

1m *30m or as required

Features

As a safety sign like exit sign and so on

Usage Time

3-4 hours, 4-6 hours, 6-8 hours, 8-10 hours

Storage Conditions

50% relative humidity and room temperature of aprox 20℃ in its original packaging it can be stored for up to 12 months.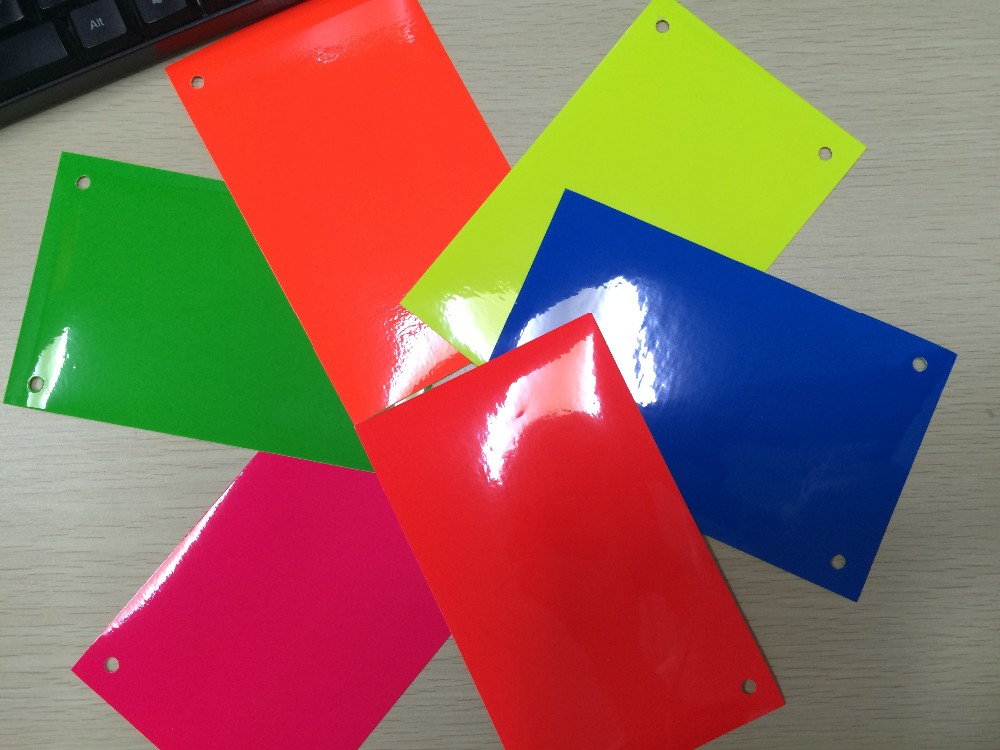 Product Categorie : Adverteren Vinyls > Fluorescerend vinyl