Gegoten fluorescerende vinylfilm
Fluorescerende vinylfilm is een gegoten fluorescerende vinylfilm die ontworpen is voor het produceren van grafische afbeeldingen en bewegwijzering die een duurzaamheid op middellange termijn (tot 2 jaar) vereist. Dit product beschikt over een uniek kleurensysteem voor een superieure visuele aantrekkingskracht en uitzonderlijke dekking, met dynamische grafische accenten.
Filmdikte: 2,0 mil. (2/1000" )
Afwerking: glans
Duurzaamheid: 2 jaar
Conformability: Vlakke, eenvoudige krommen, en golf.
Kleefstof: permanent / helder
Toepassingsgebied: Minimaal 40 ° F
Andere informatie:
Alle vinyl die we aanbieden, kan een willekeurige rollas bevatten.
Prijsbepaling van staffelkorting is op basis van één kleur, per rol.
Lengtes van 15 voet of langer worden op een kartonnen buis gerold.
Door de voet lengtes onder 15 voet worden niet teruggenomen.
Orders voor 150 voet (50 yards) worden rechtstreeks verzonden vanuit FDC Graphic Films in South Bend, IN. Houd rekening met 1-3 extra dagen voor aflevering.
De standaardafmetingen zijn 30 voet (10 yards) en 150 feet (50 yards).
Fluorescent Vinyl aanbieden niet de enige dingen die we kunnen doen. Als je vinyl wilt adverteren zoals One Way Vision , Digital Printing Film , Cold Laminating Film , Applicaiton Tape , Fluorescent Vinyl, PVC Self Adhesive Vinyl wij kunnen dat ook voor u doen. Met een breed scala aan kleuren om uit te kiezen, is de lucht de limiet voor wat we voor u kunnen knippen.
Borduurwerk, Heat Transfer Vinyl Film voor op maat gemaakte t-shirts en overhemden, een dvertising reflecterende folie , Engineering reflecterende platen en Luminous Film worden allemaal aangeboden bij Vasin. Stop alsjeblieft en zie onze brede selectie en vele ideeën die we voor je kunnen bieden.
Data Sheet of Fluorescent Retro-reflective Vinyl Film

Face Film

Material

calendered PVC

Adhesive

Finish

gloss

Thickness

150micron 200mic etc

Type

acrylic pressure sensitive adhesive

Color

red, yellow, blue, green, rose red, orange 6 color

Release Liner

Type
coated paper

Weight

140gsm etc

Ink Compatibility

printable

Size of Rolls (W*L)

1m *30m or as required

Features

As a safety sign like exit sign and so on

Usage Time

3-4 hours, 4-6 hours, 6-8 hours, 8-10 hours

Storage Conditions

50% relative humidity and room temperature of aprox 20℃ in its original packaging it can be stored for up to 12 months.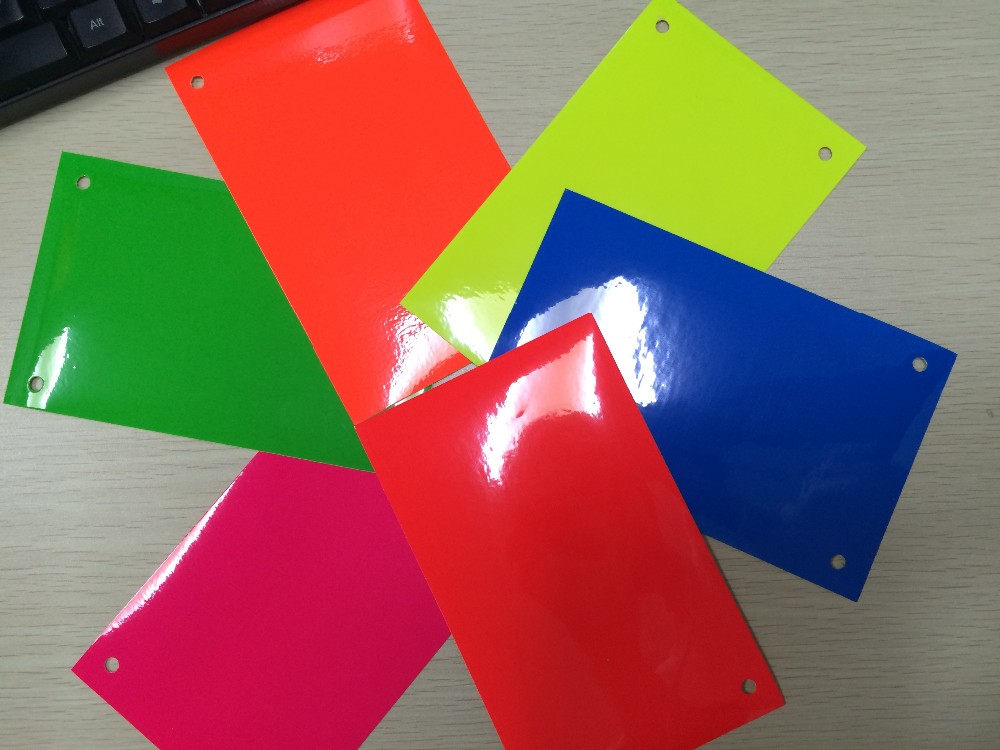 Product Categorie : Adverteren Vinyls > Fluorescerend vinyl