Carrosserie Vinyl Wrap Glanzend Wit Zelfklevend Vinyl
Wit glanzend zelfklevend vinyl - Gray Permenant Adhesive is een zelfklevend, ondoorzichtig, glanzend wit vinyl voor solvent- en eco-solvent inkt. Het is geschikt voor buitentoepassingen zoals posters, bushaltes, voertuiggrafieken en binnentoepassingen zoals verkooppunten en tentoonstellingsgrafieken.
Printbaar met printers met Eco-solvent, Solvent, Latex en UV-inkten
VOORDELEN:
Permanente acrylkleefstof.
3 jaar outdoor-duurzaamheid.
Superieure witheid voor een breed kleurengamma en diepe, rijke kleuren.
Een hogere dikte van de PVC-film zorgt voor een gemakkelijke stijfheid van de hoge inktdichtheid.
Speciaal behandelde PET-voering zorgt voor een betere beweging van media op de printer.
PET-voering elimineert alle vochtgerelateerde problemen die samenhangen met de papieren voering.
TOEPASSING:
Perfect voor algemene signaleringstoepassingen en promotionele doeleinden voor de korte termijn met goede buitenduurzaamheid.
offering PVC Self Adhesive Vinyl aren`t the only things we can do either. If you are in need of Advertising vinyls like One Way Vision, Cut Vinyl Film, Cold Laminating Film, Applicaiton Tape, Fluorescent Vinyl, we can do that for you as well. With a wide variety of colors to choose from the sky is the limit as to what we can cut for you.
Embroidery, Heat Transfer Vinyl Film for custom t-shirts and shirts, Reflective Sheeting and Luminous Film are all offered at Vasin. Please stop in and see our wide selection and many ideas that we can provide for you.
Specification
Description
PVC
Type
Calendered monomeric soft PVC film
Thickness
80±10um, 90±10um, 10±10um etc
Color Code
white, transparent
Shrinkage
≦0.8%
Surface Tension
≧30dn/cm
Opacity
>70%
Adhesive
Type
Clear solvent based permanent pressure sensitive glue
Weight(g/㎡)
18±4
Adhesion Temperature
15℃~40℃
180°

Peeling Force

≧7N/25mm(FYI FTM1)
Initial Tack
≧4N/25MM*25MM

(FYI FTM9)

Holding Power
≧1440min(FYI FTM8)
Liner
Type
Kraft paper
Color
white
Weight
120g±5g/㎡, 140g±5g/㎡, 160g±5g/㎡
Release Force
0.05~0.2N/25MM
Storage Period
12 months under ordinary condition at temperature of 22℃ and relative humidity of 50-55%
Application
Outdoor digital and silk screen printing media for signage display, vehicle graphics, airport and subway graphics application.
Compatibility of printers and ink
Media is suitable for all solvent and eco solvent digital printers with heating system including Phaeton,Infiniti, Mimaki , Roland, Vutek and HP Scitex.

Inks should be the original ink from the printer manufacturers. The best printing temperature is 35-40℃.

Standard Dimensions:

◆0.914 m x 50 m

◆1.07 m x 50 m


◆1.27 m x 50 m


◆1.37 m x 50 m


◆1.52 m x 50 m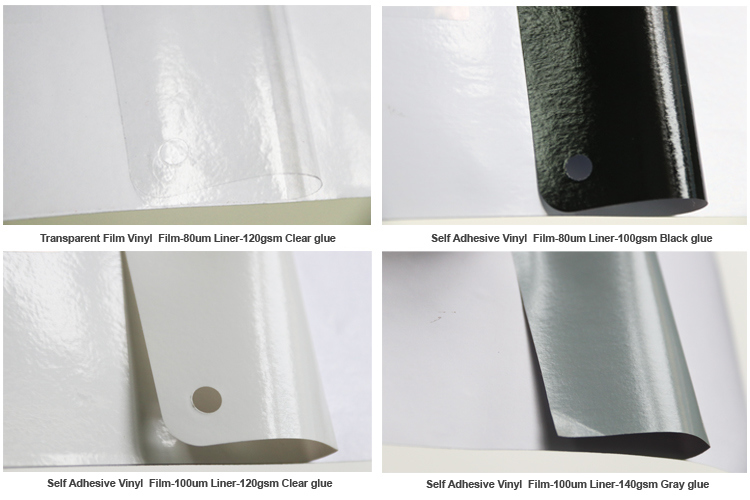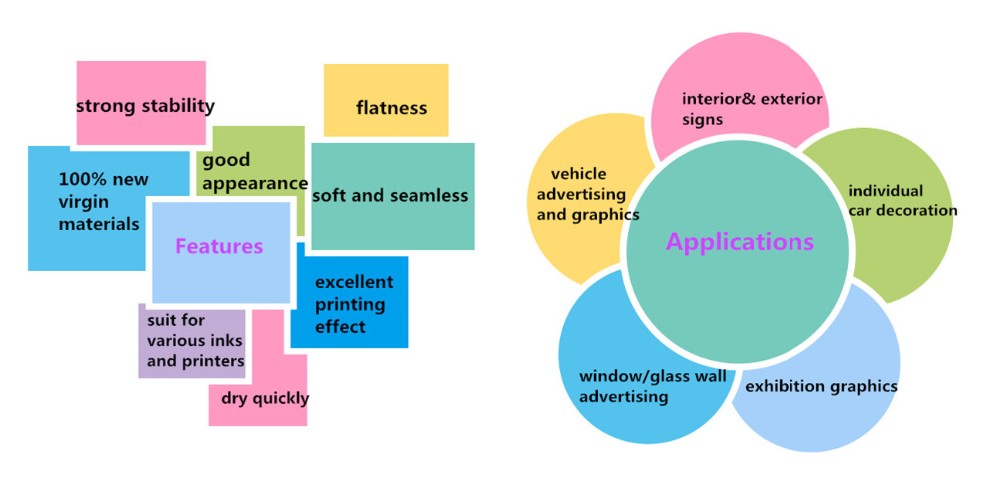 Product Categorie : Adverteren Vinyls > Digitale drukfilm