Wit Afdrukbare verwijderbare zelfklevende vinylfilm
Autosticker is een brede plastic folie of film met een kleeflaag aan één kant, gebruikt als een oppervlaktecoating voor decoratieve doeleinden of om een ​​afdruktaak te maken en te plakken op bus & carrosserie, board, raam, muur enz.
1. We bieden 3 verschillende soorten zelfklevende vinyls: de transparante zelfklevende vinyl, de witte lijm zelfklevende vinyls en de zilveren lijm zelfklevende vinyls.
2. Alle producten zijn bedrukbaar, geschikt voor
1) Oplosmiddel
2) Eco-oplosmiddel
3) UV-afdrukken
4) zeefdruk
3. Toepassing
1) Binnen- en buitenverlichting.
2) Reclame voor ramen (glazen wanden).
3) Tijdelijke reclame en reclame voor verkooppunten
4) Voertuigreclame / afbeeldingen
5) Afbeeldingen van tentoonstellingen
PVC Self Adhesive Vinyl Features
1) Uitstekende bedrukbaarheid, conversie en applicatie-eigenschappen.
2) Gemakkelijk snijden en uitstekende hechting op een breed scala aan substraten.
3) Uitstekende prijs / prestatieverhouding voor promotionele afbeeldingen buitenshuis.
4) Zacht en naadloos vinyl, speciaal voor solventprinters.
5) Goede bladstabiliteit en lay-vlakheid.
6) Hoogglans voor een superieure uitstraling.
Name

Self-adhesive vinyl film

Usage

Signing, Printing, Advertising, Letter cutting or screen printing, Eye-catching decoration

1) Interior & exterior signs.

2) Window(glass wall) advertising.

3) Temporary promotional and point of sale advertising

4) Vehicle advertising/graphics

5) Exhibition graphics.

Features

1) Excellent printability, conversion and application characteristics.

2) Easy cutting and excellent adhesion on a wide variety of substrates.

3) Excellent price/performance ratio for outdoor promotional graphics.

4) Soft and seamless vinyl, specially for solvent printers.

5) Good sheet stability and lay flatness.

6) High gloss for superior appearance.

Material

PVC vinyl film with self adhesive acrylic glue + release paper

Ink & Printer
Solvent, Eco-solvent, Latext, UV printing, Silk screen printing HP Latex, Vutek, Scitex, Nur, Infinity, Flora, Mimaki, Roland, Mutoh, etc.
PVC film Thickness
Usual 70, 80, 90, 100mic etc or as your requested
Backing Release paper
Usual 120, 140gsm or as your requested
Width
Usual 0.914 / 1.07 / 1.27 / 1.37 / 1.52m or as your requested
Length
Usual 50, 100m or as your requested
Paper core
Offer free logo design bopp box tape paper core
Package
use blank paper core or branded paper core
Payment term
30% deposit, balance before shipment
Delivery day
7-15 days after receiving the deposit
Product Keywords
outdoor advertising reflective PVC vinyl film, PVC self adhesive vinyl / vinyl sticker / printable self adhesive vinyl, printable vinyl roll for Ecosolvent printing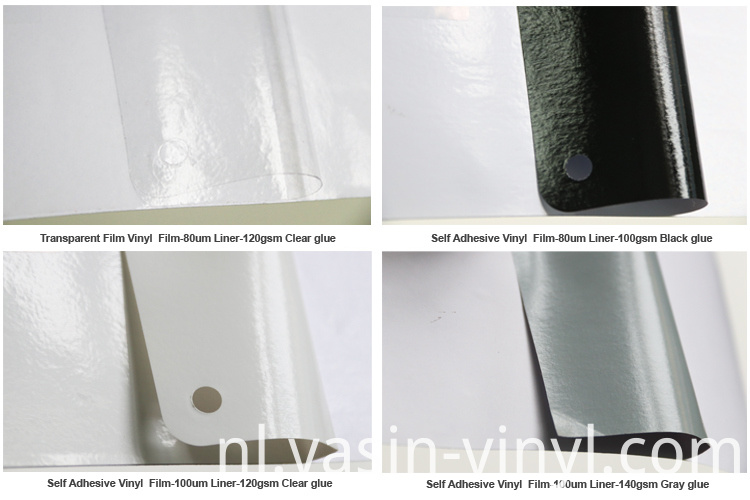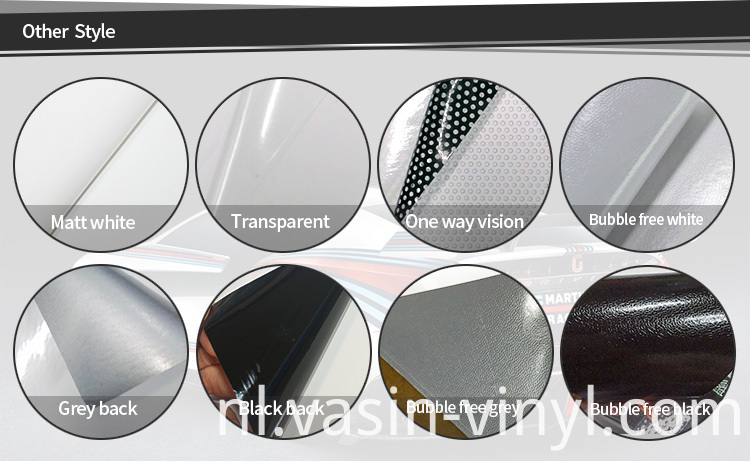 Product Categorie : Adverteren Vinyls > Digitale drukfilm