Vasin Wikkelfolie Glossy Car Wrap
ONS GLANZEND VINYL KAN WORDEN TOEGEPAST OP NAGENOEG ELK OPPERVLAK, INCLUSIEF DE AUTOPANELEN, INTERIEUR VAN AUTO, LAPTOPS, MOBIELE TELEFOONS ENZ. EN ZE EEN FRISSE NIEUWE BLIK SNEL EN VOOR EEN KLEINE KOSTEN TE GEVEN. DE WIKKEL KENMERKT EEN KLEMSCHIJF VOOR EEN STERKE EN VEILIGE MONTAGE.
De kosten voor een verpakking vinylfolie zijn aanzienlijk lager dan die van vergelijkbare matte verfafwerkingen
Vinyl auto wraps slijtage als, of beter dan verf - wanneer goed verzorgd
Vinyl autowraps zijn er in elke kleur, zelfs op maat, en kunnen een matte, halfglanzende of glanzende afwerking hebben
met Colour Change Wrap zijn niet de enige dingen die we kunnen doen. Als je Carbon Fiber Vinyl zoals 4D Carbon, 5D Carbon Fibre Wrap , 6D en 3D nodig hebt, kunnen we dat ook voor jou doen. Met een breed scala aan kleuren om uit te kiezen, is de lucht de limiet voor wat we voor u kunnen knippen.
Borduurwerk, Heat Transfer Vinyl Film voor op maat gemaakte t-shirts en shirts, reclamefilms , reflecterende platen , decoratieve vinylfilm , zandstraalstencil en andere autowrapfilms worden allemaal aangeboden bij Vasin. Stop alsjeblieft en zie onze brede selectie en vele ideeën die we voor je kunnen bieden.
| | |
| --- | --- |
| Model | JX2001 |
| Product | Car color change wrap vinyl film |
| weight | 17kg/roll |
| Thickness | 0.18mm |
| Heat resistance | -50°C to +200°C |
| Stretch rate | 33+ pascal |
| Mask thickness before embossing | 11.5c |
| Glue material | Imported removable glue |
| Glue thickness | 0.03mm |
| Glue weight | 30g/m2±2gm2 |
| Gram weight of release paper | 140gsm embossing paper |
| Thickness of release paper | 0.15-0.16mm |
| Stand up against | water, dirt, grease, salt, weak acids oil |
| Durability period | Indoor 5-6 years; outdoor: 3-4 years |
| Compatibility | Die cutting,car decoration,architectural decoration |
| 12 Colors available | Black, White, Orange, Pink, Red, Apple Gree, Lemon Yellow, Tiffany,Pearl Blue, Purple, Silver Grey |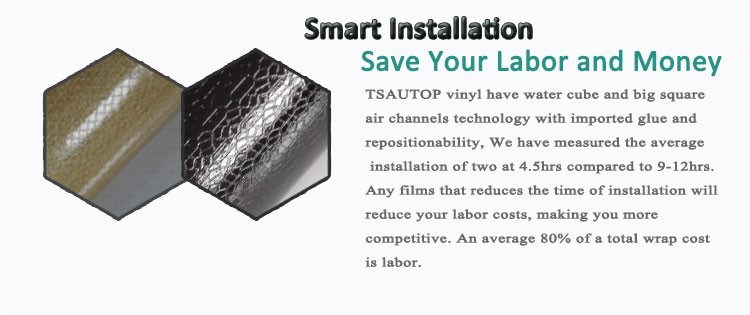 Product Categorie : Car Wrap Film > Kleurwissel Car Wraps